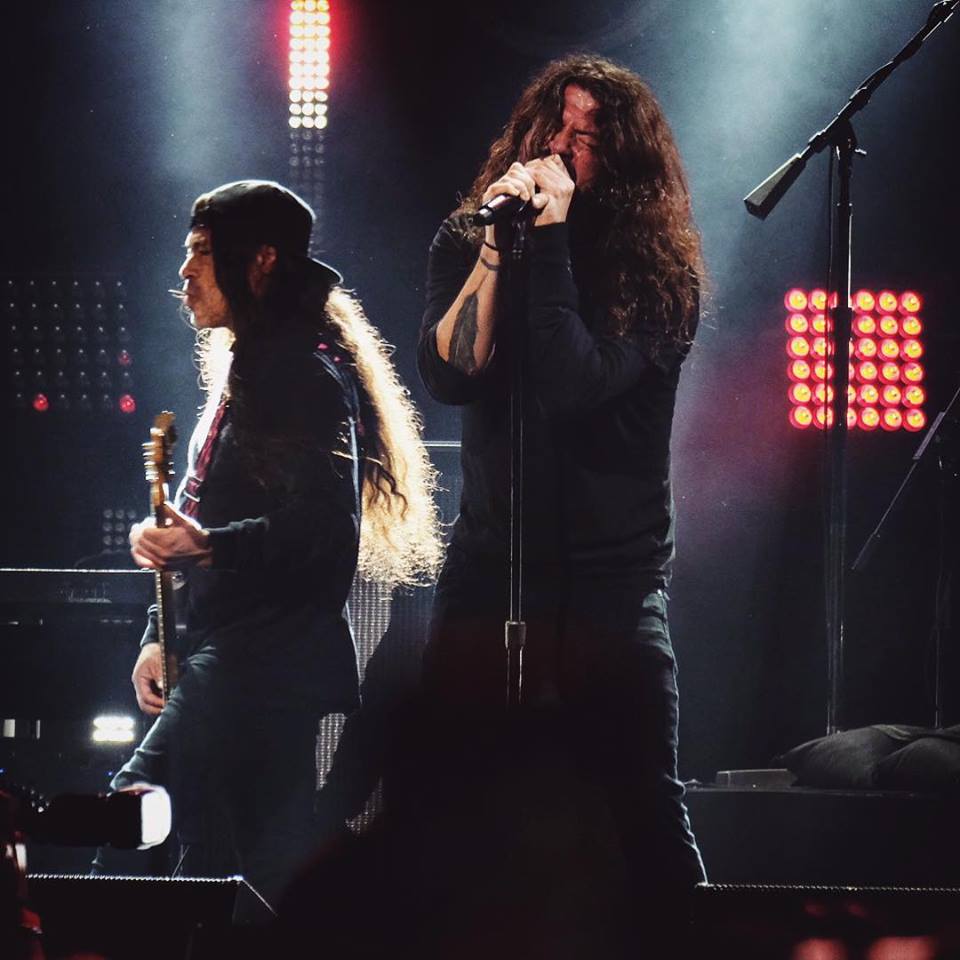 Foto: Lauren Harris
Chris Cornell homenageado com um show/tributo de cinco horas de duração e uma setlist de 42 músicas.
Os membros do Soundgarden, Temple of the Dog e Audioslave, bem como Foo Fighters, Metallica, Josh Homme, Fiona Apple e Brandi Carlile estavam à disposição para homenagear Chris Cornell como parte de um concerto all-star de tributo, realizado em Los Angeles na noite de quarta-feira. Organizada pela esposa de Cornell, Vicky, "Eu Sou a Estrada: Um Tributo a Chris Cornell" contou com 42 apresentações distintas e uma infinidade de surpresas para convidados, proporcionando uma noite inesquecível de quase cinco horas de duração.
O concerto começou com a banda Melvins, que fizeram um set de seis músicas que terminou com um cover de "Spoonman", do Soundgarden.
Um pouco mais tarde, o Foo Fighters subiu ao palco para cobrir "No Attention" do Soundgarden, junto com "Girl U Want" do Devo e "Earache My Eye" de Cheech e Chong. Dave Grohl então ficou para fazer uma versão solo da música de assinatura do Foo Fighters, "Everlong".
Fotos: Lauren Harris
Os membros do Audioslave, menos o baixista Tim Commerford, tocaram cinco músicas com cinco cantores diferentes: "Cochise" (com Jane's Addiction, Perry Farrell ); "Be Yourself" (com Juliette Lewis ); "Set It Off" (com Rise Against, Tim McIlrath); "Like a Stone" (com Brandi Carlile); e "Show Me How to Live" (com Dave Grohl). Geezer Butler, do Black Sabbath, e Robert Trujillo, do Metallica, estavam entre os baixistas que substituíram Commerford.
O Metallica tocou quatro músicas, incluindo covers de "All Your Lies" e "Head Injury" do Soundgarden, além de suas próprias "For The Who the Bell Tolls" e "Master of Puppets". Seu set foi precedido por Jack Black e James Hetfield apresentando uma breve, mas divertida, versão improvisada de "One".
Ryan Adams cantou duas músicas, "Fell on Black Days" do Soundgarden e "Dead Wishes" da carreira solo de Cornell, enquanto vários artistas cantaram uma música durante a noite: Josh Homme, do Queens of the Stone Age ("Rusty Cage"); Miley Cyrus ("As Hope and Promise Fade"); Rita Wilson ("The Promise"); Alain Johannes ("Disappearing One"); Chris Stapleton ("The Keeper"); e Adam Levine ("Seasons"), que foi acompanhado por Stone Gossard do Pearl Jam.
A filha de 14 anos de Cornell, Toni, proporcionou um dos momentos mais bonitos da noite, quando cantou "Redemption Song", de Bob Marley, com a ajuda de Ziggy Marley.
Os integrantes do Temple of the Dog Stone Gossard e Jeff Ament forneceram o penúltimo set da noite. Ao longo de sete músicas, eles se juntaram a uma série de cantores convidados, incluindo William DuVall (Alice in Chains), Fiona Apple, Miguel, Miley Cyrus e Brandi Carlile.
Para encerrar a noite, Kim Thayil, Ben Shepherd e Matt Cameron (Soundgarden) dividiram o palco juntos pela primeira vez desde o falecimento de Cornell. Taylor Momsen cantou em três músicas, incluindo "Rusty Cage", "Drawing Flies" e "Loud Love". Taylor Hawkins, do Foo Fighters, liderou a banda em "I Awake" e "The Day I Tried to Live", ao lado de Buzz Osbourne, do Melvins. Para a apresentação final da noite, o Soundgarden tocou "Black Hole Sun" com Brandie Carlile e Peter Frampton.
Jimmy Kimmel serviu como mestre de cerimônias, e muitos dos amigos de Cornell apareceram no palco ao longo da noite, incluindo Brad Pitt e Josh Brolin.
Setlist:
The Melvins
Kicking Machine
With Your Heart Not Your Hands
Leech
Heart Of Honey
Spoonman
Rita Wilson
The Promise
Nikka Costa e Alain Johannes
Disappearing One
Chris Stapleton
The Keeper
Foo Fighters
No Attention
Earache My Eye
Girl You Want
Everlong (Acoustic)
Josh Homme
Rusty Cage
Adam Levine, Jesse Carmichael e Stone Gossard
Seasons
Miley Cyrus
Two Drink Minimum
Audioslave (Tom Morello e Brad Wilk)
Cochise (Com Geezer Butler e Perry Farrell)
Be Yourself (Com Geezer Butler e Juliette Lewis)
Set It Off (Com Chris Chaney, Sam Harris e Tim Mcllrath)
Like A Stone (Com Chris Chaney e Brandi Carlile)
Show Me How To Live (Com Robert Trujillo e Dave Grohl)
Toni Cornell e Ziggy Marley
Redemption Song
Metallica
All Your Lies
For Whom The Bell Tolls
Master of Puppets
Head Injury
Ryan Adams
Dead Wishes
Fell On Black Days
Temple Of The Dog
Preaching The End Of The World
Can't Change Me (Com Alain Johannes, Eric Avery e Josh Freese)
Hunted Down (Com William DuVall, Jerry Cantrell e Josh Freese)
All Night Thing (Com Fiona Apple, Brendan O'Brien, David Garza e Matt Chamberlain)
Reach Down (Com Miguel, Nikka Costa e Brendan O'Brien)
Say Hello 2 Heaven (Com Miley Cyrus, Brendan O'Brien e Josh Freese)
Hunger Strike (Com Brandi Carlile, Chris Stapleton e Brendan O'Brien)
Soundgarden
Rusty Cage (Com Taylor Momsen)
Flower (Com Marcus Durant)
Outshined (Com Marcus Durant e Stone Gossard)
Drawing Flies (Com Taylor Momsen, Buzz Osbourne, Matt Demeritt e Tracy Wanamae)
Loud Love (Com Taylor Momsen, Tom Morello e Wayne Kramer)
I Awake (Com Taylor Hawkins e Buzz Osbourne)
The Day I Tried To Live (Com Taylor Hawkins e Buzz Osbourne)
Black Hole Sun (Com Brandi Carlile, Peter Frampton, Tim Hanseroth e Phil Hanseroth)
Tributo completo
Fonte: CoS